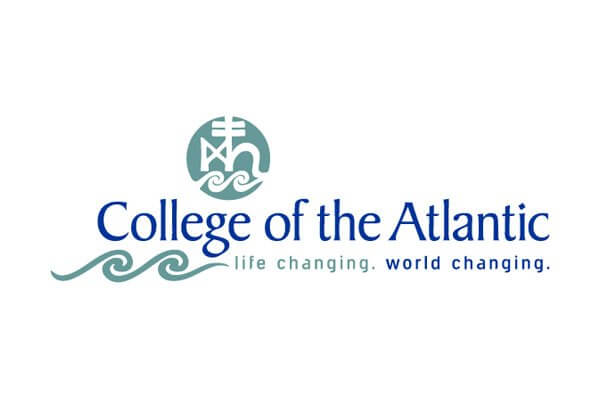 Hands-On, Waterfront STEAM Education at Atlantic
College of the Atlantic appears in our ranking of 50 Great Affordable Colleges for Outdoor Enthusiasts.
Ranked the U.S. News & World Report's 95th best liberal arts school, the College of the Atlantic awards a 36-credit B.A. and 18-credit M.Phil. in Human Ecology with 19 concentration areas at a 10:1 student-professor ratio. For example, the Climate Change & Energy Program integrates environmental projects at Beech Hill Farm, UN Framework Convention meetings, and trips to Denmark's Samso Island. Chaired by Dr. John Anderson in Witchcliff Hall, the Marine Science Program sets sail on The Osprey from Bar Harbor for aquatic biology research at Mount Desert Rock and Great Duck Island. The Sustainable Business Program prioritizes entrepreneurship by giving $5,000 to start ventures via the Diana Davis Spencer Hatchery. Linked to Blum Gallery, the Visual Arts & Design Program led by Dr. Catherine Clinger blends studio practice with 450-hour off-campus internships, such as the Farnsworth Art Museum. Boasting 80 percent retention, the Languages Program sharpens foreign tongues with a 14-week Yucatan Session in Merida and 14-week French Session in Vichy.
Other COA specializations include Gender & Identity Studies, Educational Studies, Ethnography & Documentary, Performance & Music, and Farming & Food Systems.
About the College of the Atlantic
The College of the Atlantic originated in 1968 when Bar Harbor High School alumni Les Brewer and Father James Gower planned Mount Desert Island's first four-year institution. On June 23, 1969, the Maine State Board of Education officially approved its founding. Later that year, its 300 forested acres on Frenchman Bay were acquired for $1 from the Oblate Fathers of Mary Immaculate Seminary. In 1972, President Edward Kaelber welcomed an inaugural class of 32 into its B.A in Human Ecology degree. Accredited in 1976, the College of the Atlantic started a research station at Great Duck Island Lighthouse in 1998. By 2005, COA became the United States' first college with a zero-waste graduation. In 2010, Atlantic launched the Peggy Rockefeller Farms near Acadia National Park to raise 500+ animals by MOFGA standards. Endowed for $45.9 million, the College of the Atlantic now employs 35 faculty teaching 350 Black Flies from 34 countries on-site with 26 clubs like Earth in Brackets. Forbes named COA America's 301st best private university and 144th top liberal arts college. The Princeton Review noticed Atlantic for the 12th best professors and 11th best campus food too.
College of the Atlantic Accreditation Details
On March 1, 2018, the New England Association of Schools and Colleges (NEASC) Commission on Institutions of Higher Education (CIHE) voted to continue the Level III accreditation at the College of the Atlantic through Fall 2027 under its third president, Dr. Darron Collins, who accepted a Maine Preservation Honor Award. Located 278 miles southeast via Interstate 95 in Burlington, Massachusetts, this superb six-state East Coast accreditor is recognized by the U.S. Education Department and Maine Department of Higher Education.
College of the Atlantic Application Requirements
Admission to the College of the Atlantic is labeled "very selective" by Peterson's because just 322 of the 474 Fall 2017 applicants were triumphant for 68 percent acceptance. First-year Black Flies must exhibit intellectual curiosity and ambition during college-prep high school curricula. Four years of English and Math are highly preferred. If taken, each GED section must be scored 145 or better. Competitive GPAs of 3.0 or greater are suggested since the median is 3.71. The Admissions Office has a test-optional policy, but average marks are 1278 on the SAT and 28 on the ACT. Undergrad transfers can carry up to 18 credits graded at least "C" from regionally accredited colleges. Note that semester credits are multiplied by 0.3 to determine eligibility. The BA in Human Ecology has a unique transfer agreement with Green Mountain College. For non-native English speakers, 550 TOEFL pBT or 6.0 IELTS scores are requested. The M.Phil. in Human Ecology also seeks minimum 3.0 GPAs during an accredited baccalaureate.
The College of the Atlantic set freshmen deadlines of December 1st for Early Decision I, January 15th for Early Decision II, and February 1st for Regular Decision. Incoming transfers must apply by March 15th for Fall, November 1st for Winter, and February 1st for Spring starts. Master of Philosophy in Human Ecology entrants only have until February 15th yearly. As such, complete the COA or Common Application online for $50. Send official transcripts electronically or to 105 Eden Street in Bar Harbor, ME 04609. Optional examinations utilize institutional code 3305. Other steps include the Skype interview, 2-3 recommendation forms, school counselor report, personal statement, and proposed course of study outline. Learn more by contacting (800) 528-0025 or inquiry@coa.edu.
Tuition and Financial Aid
For 2018-19, the College of the Atlantic has billed full-time undergrads $21,496 per semester or $42,993 annually. Mandatory fees are $549 each year. Living at the Bar Harbor campus' dorms like Davis Carriage House adds $6,210 yearly. Standard meal plans for Blair Dining Hall are $3,537 extra. COA budgets $600 for textbooks and $1,080 for miscellaneous expenses. Annual bachelor's attendance equals around $54,969 on-site and $45,222 at home. The M.Phil. in Human Ecology currently charges two-thirds the undergrad rate or $28,665 per year. Master's majors still pay the $549 in mandatory fees though.
According to the NCES College Navigator, the Office of Financial Aid in Kaelber Hall supports 96 percent of full-time COA Black Flies with $10.12 million total for buzzingly good offers averaging $31,846 each. Collegiate funds include the Presidential Scholarship, Deans' Scholarship, Children of Maine Teachers Scholarship, Transfer Scholarship, Camp Rising Sun Scholarship, Kroka Semester Expeditions Scholarship, Leap Year Scholarship, Summer Field Institute Scholarship, Whale Camp Scholarship, Chewonki Semester School Scholarship, and Acadia Institute of Technology Scholarship. Associate grads with minimum 3.0 GPAs receive the $15,000 Community College Scholarship yearly. Since 1984, the Maine Community Foundation has developed 600 awards like the Agnes Freyer Gibbs Scholarship, Chet Jordan Leadership Scholarship, and Churchill Family Scholarship. Federal Pell or SEOG Grant eligibility is determined by FAFSA applications filed by March 15th. Federal Work-Study positions, such as Sea Urchin Café and The Writing Center, pay at least $10/hour. Atlantic students borrow Federal Perkins, Direct, and Graduate Plus loans for median debt under $20,000. Vacationland residents also pursue the State of Maine Grant, Foster Care Waiver, Public Servant Waiver, Educators for Maine Scholarship, and Patriot Education Scholarship.
Browse through the 400+ accredited courses available on the College of the Atlantic website.